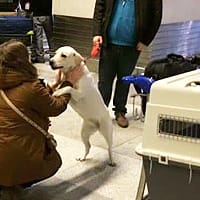 We help Cats & Dogs, to relocate across the globe; our base being in Gurgaon, India. Let us know where you're heading & we will assist you to relocate your pet with comfort, care and ease.
Your furry friends can now follow you wherever you go. Currently PetSpot handles pet cats and dogs.
Our services help the pet/s to travel from other countries into India (In-Bound Travel) and from India to any other country (Out-Bound Travel). We also undertake domestic projects to assist pet parents who travel with their pets within India and these are called 'Domestic pet relocation/ Travel'.
PetSpot started pet relocation services in 2015, and in last 3 years we have helped more than 200 pet parents to comfortably travel with their pets both, Internationally and domestically.
PetSpot team have the experience and expertise of enabling pets travel from/to almost 20 different countries and the most frequent ones being: Australia, Canada, United Kingdom, United States of America, Dubai, Germany, France, Belgium, Pakistan, Indonesia, Malaysia, Singapore, Dubai, Vietnam, Madagascar, Africa, Korea, China, Philippines, Japan, Switzerland, Hungary, Austria, Netherlands, Finland, Cambodia, South Africa & Mauritius – to name a few.
Every country has different rules for incoming and outgoing pets. Some countries require only the certified paper work. Some countries require the pet to go through quarantine.
Depending on the Country norms and the Import Customs, they will have very different laws, unique to each country. Some countries have laws related to import and commercial import of pets. In India you cannot import a pets however it is allowed to bring in your own pet as a companion, but with certain mandated clauses.
PetSpot Founder Vizal Atheya, has travelled with pets to relocate them to different countries and ease them in. She understands procedures and processes of different countries regarding pet relocation at a first-hand information.
PetSpot Team have built the relationships with agents, veterinarians, quarantine offices, cargo offices, airlines across many countries, through their years of service and experiences.
Services provided by PetSpot for 'International pet Travels:
Counselling the pet parents for comfortable travel of their pets (Pre-Travel preparation)

Crate sizing and pet's crate training

Arranging the IATA crate to buy or to rent

Assist with pet as AVI cargo booking

Assisting in cases where pets travel as an accompanied baggage

All types of blood tests including pet blood titer test

Pet boarding services for 'holding time' requirements

Processes and documentation services related to AQCS, India (Animal Quarantine and Certification Services)

Processes and documentation services related to DGFT, India (Directorate General of Foreign Trade) for import permits wherever applicable

All other types of documentation for travel as per the country's requirements including: health certificates, import permit, export permit etc.

Microchipping

Pre-Fly health check-up: Mandatory for older pets / ailing pets

Helping to choose the right airline & coordination with the airlines

Pet Cab Service for door to door relocations

Arranging meet, greet & assist services on Delhi Port for inbound and outbound travels

Professional pet escort service: We provide a trained professional to travel with your pet

Assistance in booking the quarantine facilities everywhere in the world

Connecting with travel agents, cargo agents and veterinarians across the globe for cargo and baggage clearance and any other documentation
Services we provide for Domestic Travel of pets:
Free consultation over the phone for all travels of pets that are accompanied by the owners: air, railways and road travels

'Fit to Fly' Certificate from veterinarian

Pet Cab Service for door to door pet relocation

Crate sizing & training

Arranging the crate to 'buy' or 'on rent'

Professional pet escorts to help at/for rail coordination and booking

Professional escorts to help at Airports for AVI cargo booking

Paid premium service for domestic relocation of pets also available – A trained professional travels with your pet in train or by air

Pet boarding services for holding time requirements
Our aim is to help cats and dogs of all breeds to move anywhere, where their owners go. Our base being in Gurgaon, India, does not restrict our services – both in and out bound.
Contact us and let us know where your pet needs to travel to and we'll make your pet's transport easy and safe. You can reach us on +91-9811133950 | [email protected]